Joshua Clarke and Eliza Serjeant and their children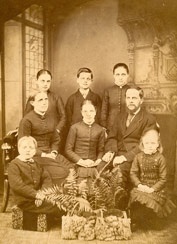 Joshua and Eliza, my great-grandparents, married on 25th December 1861 in Eye parish church. Eye is a village just outside Peterborough.
They had two sons - John Sargent Clarke and my grandfather George Westfield Clarke - and four daughters - Ellen, Mary Jane, Sarah Ann and Alice.
Sarah Ann, the eldest child, was born in Hackleton and the other children were born in Piddington.
The second photograph above is of the Clarke family in about 1880.
Back row: Mary Jane, John Sargent and Sarah Ann.
Middle row: Eliza (née Serjeant), Ellen and Joshua.
Front row: My grandfather, George Westfield (1872 - 1954) and Alice.
At the time of the 1881 census the family (but not Mary Jane) were living at 24 Harding Terrace, Northampton.
George Westfield Clarke's story is described on a separate page.
Sarah Ann Clarke (born about 1864; died 22nd March 1891 [See documents]) married George Feltham in 1890.
Mary Jane Clarke (born 1866; died 28th January 1908) was a dressmaker and tailoress. She never married. [See documents]
Ellen Clarke (born about 1867; died 26th December 1922) was a bookbinder, then a tailoress. In 1911 she was still unmarried, and lived with her mother.
Alice Clarke (born 7th January 1874; died 6th September 1941) married Charles Edward Markham on 23rd August 1900. Charles Markham was born in Leicester on 29th October 1872. He set up a hosiery business with his brother Herbert in 1915 and the company, Markham Brothers, patented 'Revolwelt' expanding-topped stockings. The company failed in the 1930s recession and Alice and Charles moved to Dublin, where their descendants still live today.
Alice and Charles had three children - Marjory Alice (Midge) Markham (10th April 1903 - 13th February 1977), Sybil Mary Markham (26th July 1907 - 15th June 1997) and Stanley George Westfield (Boy) Markham (16th July 1912 - 6th October 1991).
Sybil moved to Ireland with her parents and married John Joseph Henry (4th December 1898 - 17th November 1957). She was a commercial artist and illustrated children's books, magazines and advertisements. She kept in contact with my mother, Mary, who visited her in Dublin shortly after World War Two.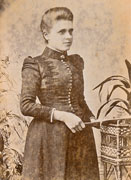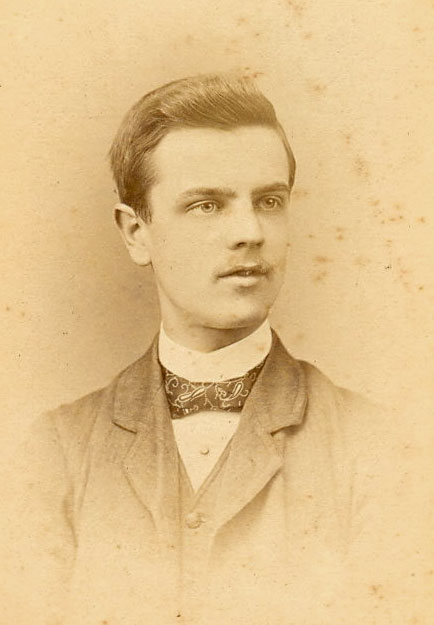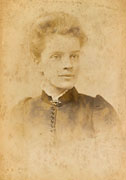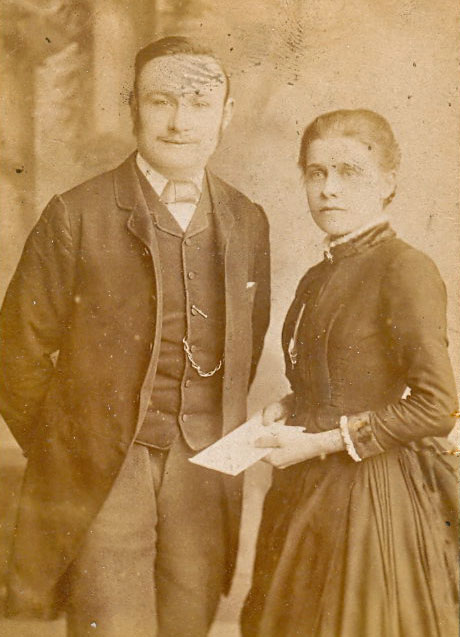 Left to right above: Ellen Clarke, John Serjeant Clarke, Mary Jane Clarke, Sarah Ann Clarke with her husband George Feltham.
John Serjeant Clarke (9th December 1868 - 31st January 1952) founded the Northampton printing firm Clarke and Sherwell. He and his wife Kate (née Ashling, 1869 - 1952) married on 25th December 1895 in Acton Green, London, and had two children, Dorothy May Clarke (1st May 1897 - 7th June 1928) and Cecil Patrick Clarke (21st April 1900 - 8th May 1992). I met Cecil (my mother's first cousin) and his third wife Eva in the 1970s. Cecil's daughter Jean (28th September 1929 - 25th April 1992) married John Bruce (Bruce) Mathew on 10th July 1953 and moved to Australia, where this branch of the family now live.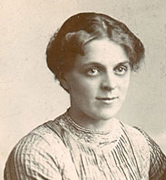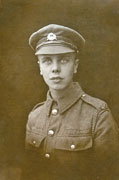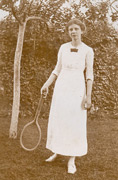 Left to right above: Alice Clarke and John Serjeant Clarke's son, Cecil Patrick Clarke and daughter, Dorothy May Clarke.
Dorothy was educated at Girton College, Cambridge and worked as a preparatory school mistress, at a school she started with a friend. She died of pneumonia and tuberculosis on 7th June 1928 and is buried in Kingsthorpe Cemetery in Northampton.
I have the letter Alice (living at Highcliffe, Westhill Road, Leicester) wrote to her brother George in 1923 congratulating him and Emma on the birth of their daughter Mary, my mother. "Is that really to be the little girl's name? Mary Elin? Is it Welsh or is it a new combination? At any rate I think it is very pretty." (Elin is indeed a Welsh name.)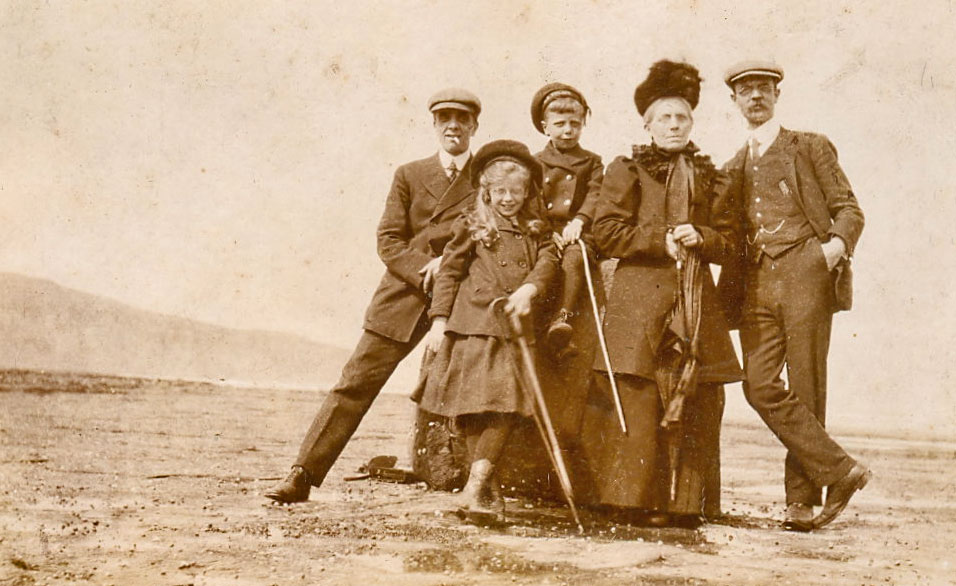 Above left: On the beach: George Westfield Clarke, Cecil, Kate (John Serjeant Clarke's wife), John Serjeant Clarke and Dorothy.
Above right: Kate Clarke (née Ashling), John Serjeant Clarke's wife.
Joshua Clarke 1834 - 1899 and his parents and grandparents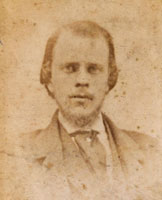 Joshua Clarke was my great-grandfather. He was born in Paradise, Hackleton, on 15th October 1834 and died in Northampton on 30th January 1899. He was a Cordwainer (shoemaker).
Joshua's father was a Labourer, Westfield George Clarke (Westfield is spelt "Whitfield" on Joshua Clarke's marriage certificate), who was born about 1800. He died of consumption (tuberculosis) on 7th January 1839 in Hackleton.
Joshua's mother was Sarah Hutchins, born in March 1804 in Hackleton. Sarah worked as a lacemaker and died in Hardingstone, Northamptonshire in November 1885.
Westfield and Sarah married on 5th December 1825 in Piddington, Northamptonshire. Joshua was the fifth of eight children. Westfield and Sarah's children were:
George Clarke (pictured below). Born c1826 in Hackleton, christened 8th June 1826 in Piddington. He was a shoemaker.
Charles Clarke. Born c1828 and christened on 4th January 1835 in Horton parish church with Joshua and his sisters Mary and Ruth.
Mary Clarke (pictured below). Born c1830 in Horton, Northamptonshire. Married John Carr on 1st September 1852 in Christ Church, Southport. Died in 1901. Mary and John had at least six children - Charles (1859 - 1931; married Flora Cory in 1898), George William (1863 - 1930, married Louisa Agnes Cory in 1888), Arthur (1865 - 1922), Ann (born 1867), Sarah Jane (born 1869; married Dominic Hoban in 1908) and Mary Hannah (1873 - 1878).
Ruth Clarke. Born in 1832 in Hackleton. Died in 1908 in Hardingstone, Northamptonshire. She had a child (partner unknown) in 1853 - Westfield George Clarke. She married Thomas Morris in 1862 anf they had at least three children - Charles (born 1867), Sarah (born 1869) and John (born 1872).
Joshua Clarke.
Benjamin Clarke. Born in 1837 and christened in Horton church on 19th February 1837. He was a shoemaker.
Ann Clarke. Born in 1837 and christened on 9th October 1837 in Horton church. She died soon afterwards.
Ann Clarke (2). Born in 1838 and was christened on 9th December 1838 in Horton church. She died on 10th April 1863 and was buried at Horton church.
Westfield George Clarke's father was Westfield Clarke, who was born c1764 and christened in 1765 in Denton parish church, Northamptonshire. He was an agricultural labourer. He married Susanna (Susan) Rainbow in 1791 at Denton. Susan was born in 1768 or 1769 and christened on 27th July 1170 in Denton. She was a lacemaker. Westfield Clarke died in Hackleton in 1828 an was buried on 28th December 1828 in Horton. Susan Rainbow died on 12th November 1849 in Paradise Row, Hackleton). Westfield and Susan had the following children:
Thomas Clarke - born 1792.
Anne Clarke - born 1794.
Elizabeth Clarke - born 1796.
Westfield George Clarke.
Ruth Clarke - born 1803.
Sarah Clarke - born 1805.
Joshua Clarke - born 1809.
James Clarke - born 1815.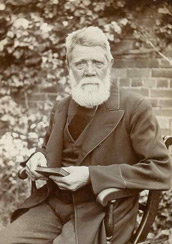 Left: Joshua Clarke's brother George. George lived in Hackleton and I remember the grandfather clock that George used to own in my grandmother, Emma's house.
Years before, the clock had been dug into an earthen floor because it was too tall for the low ceilings. Consequently the wood at the bottom of the case rotted, and had to be replaced. The clock was sold when Emma died.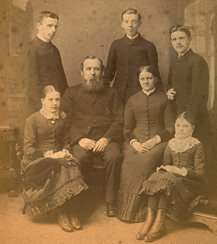 Left: Mary Clarke with her husband John Carr and children, Charles, George William, Arthur, Ann and Sarah Jane.
The family lived in Southport, Lancashire.
Eliza Clarke (née Serjeant) 1839 - 1918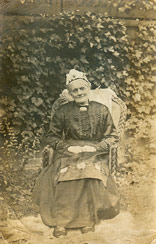 Eliza Clarke, my great-grandmother (pictured in September 1918), was born on 29th April 1839 in Eye, near Peterborough. She died on 22nd December 1918 in Leicester.
Eliza's father was John Serjeant ("John Serjeant (3)"), a Drover, was born in Peterborough on 26th December 1801 and her mother was Sarah Serjeant (née Bland), who was born on 23rd January 1799 in Werrington, Northamptonshire.
Eliza was the eighth of ten children born to John and Sarah between 1825 and 1843.
At the time of the 1861 census, Eliza was a parlour maid in the curate's house in Hackleton.
The alternative spelling of "Sergeant" was used on Eliza's birth certificate, probably due to a clerk's error, as both John and Sarah could write and used the spelling "Serjeant". Apparently there are around 17 ways of spelling the surname and all of her great-uncles and aunts (John Serjeant (2)'s brothers and sisters) had their names spelt "Sargent" in records.
The surname comes from the Old French "sergent" or "serjant", meaning "servant".
Eliza's Sampler
As a link to these ancestors, I have Eliza's sampler hanging on my study wall. Eliza made it in 1849 and it is beautifully stitched but rather faded and yellow with age.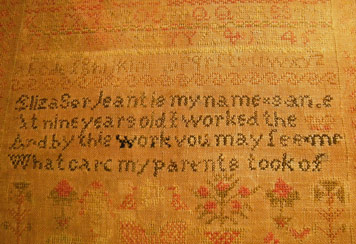 The sampler reads as follows:
"Eliza Serjeant is my name
At nine years old I worked the same.
And by this work you may see
What care my parents took of me."