William Griffiths and Ellen Thomas and their ancestors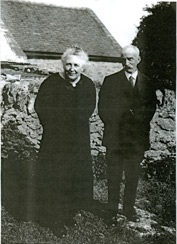 Left: my great-grandparents, William Griffiths and Ellen Thomas.
In the right hand picture they are outside their house at Bryn Llan, Tynygongl.
William and Ellen married on 24th March 1893 in the Victoria Chapel in Liverpool. They had five children - Owen, Gwilym and John, Jennie and Emma, my grandmother.



William Griffiths 1864 - 1959 and his father John Griffiths 1820 - 1890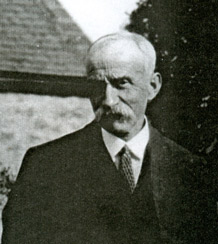 William Griffiths was born on 30th September 1864 in Nefyn, on the Lleyn Peninsula of North Wales. He was a Master Mariner. He died on 17th April 1959 at Bryn Llan, Tynygongl, Llanfairmathafarneithaf.
At the time of the 1881 census William was a 16 year old sailor living at Llainfadryn, Nefyn with his father and mother and his sister Ann (a 21 year old domestic servant) and her daughter Jane Griffiths (aged 2), both born in Nefyn.
William's father (and my great great-grandfather) was John Griffiths, who was born on 22nd March 1820 in Nefyn, Caernarfonshire. He was 5 ft 3 inches tall, had brown hair, dark complexion and grey eyes. John was a Master Mariner and became a part-owner of the schooner "Eleanor and Jane" in 1856. The ship carried a variety of cargoes, including fruit, wine and brandy from Spain, Portugal and France, coal from South Wales and slates from Caernarfonshire (North Wales). John was forced to sell his shares in the vessel in 1871. In 1873 he was captain of the brigantine "Mary Lawson". He died on 17th March 1890 at Highfield Street in Liverpool.
On 8th September 1848 John married Jane Griffiths, née Williams. Jane was born around 1826 at Edern, Caernarfonshire, and was the daughter of William Williams of Cwmistir Bach, Edern.
John's father (William's grandfather) was another William Griffiths, who died on 21st February 1871. His mother (William's grandmother) was Eleanor Griffiths. (I do not know her maiden name.)
The "Eleanor and Jane" was named after John's mother and wife respectively.
Thanks to my cousin Iolo Wyn Griffiths for the above information on John Griffiths, which is published in the paper John Griffiths, Morfa Nefyn, Caernarfonshire, and the Schooner 'Eleanor and Jane' - Cymru a'r Môr/Maritime Wales, Vol. XII: pp66-72 (1989).
Service records for John Griffiths and William Griffiths can be found in the Welsh Mariners' Index / Mynegai Morwyr Cymru [Source]. (Search for John Griffiths b1820 and William Griffiths b1865.)
Ellen Griffiths (née Thomas) 1869 - 1941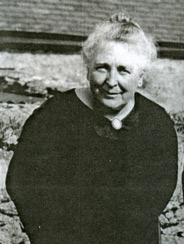 Ellen Thomas was born on 10th November 1869 at Bryn Llan, Tynygongl, Llanfairmathafarneithaf, on the Isle of Anglesey (Ynys Môn) in North Wales. She died on 23rd March 1941.
At the time of the 1881 census Ellen was 12 years old and living at Pentre Garreg Bach in Llanfairmathafarneithaf, with her parents and brothers Richard (aged 9), Owen (7) and William (5), all from Llanfairmathafarneithaf.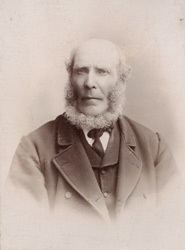 Pictured left, Ellen's father, Richard Thomas (1840 - 1925), was born at Adwy Goch in Llanfairmathafarneithaf. He was a Limestone Quarryman.
Ellen's mother was Emma Thomas (née Jones) of Bryncillau (1841 - 1927).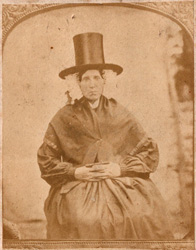 Richard Thomas' mother, Elizabeth, is pictured left. She lived from 1811 - 1865.
I do not know her maiden name but she was married to Richard Thomas (1814 - 1884), who worked as a Labourer, then Farmer and Clockmaker, latterly at Pant y Bugail, Tynygongl.
Thanks again to my cousin Iolo's hard work, it is possible to trace Ellen Griffith's ancestors back to her great great-grandfather Thomas Williams, a fisherman from Ysgubor Fawr, who was born in the first half of the eighteenth century and was buried in 1793.