George Westfield Clarke 1872 - 1954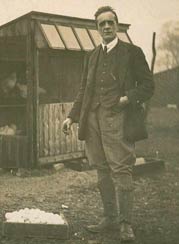 My grandfather, George Clarke, was born on 23rd July 1872 in Piddington, Northamptonshire.
His father was Joshua Clarke, a Shoemaker, and his mother was Eliza Clarke (née Serjeant). He had one brother, John.
In May 1922 he married my grandmother, Emma Clarke (née Griffiths) in Benllech and they remained married until he died at home in Tynygongl in the parish of Llanfairmathafarneithaf in 1954.
George and Emma had only one child, Mary, born in 1923.
At the time of his marriage, George was a Poultry Farmer. (You can see some of his hens and their eggs in the photograph). However, he had trained as a Master Tailor and went into business as Clarke and Kiddle, at 27 Friar Lane, Leicester. Later he moved to Burton-on-Trent and ran his own business as a tailor, clothier and outfitter.
George was a well loved and respected member of the local Friends Meeting House (Quakers). In a tribute after his death he was described in the Burton Daily Mail as "a man of highest integrity - of deep understanding and kindness... most humble and unassuming, yet of lofty soul and ideals." He "delighted in helping poorer people and poor children" and left behind "a legacy of happy memories and of a rich, helpful and abiding influence never to be forgotten". I would have loved to have met him, but he died ten years before I was born.
He died at home at Hillcrest, Tynygongl, Benllech, on 18th October 1954.
Key Events in George's Life
Born in Piddington, Northamptonshire on 23rd July 1872.
1st May 1886 - Begins an apprenticeship with John Hull, Tailor and Outfitter, of Overstone Road, Northampton.
Recorded as a Tailor in the 1891 census, as a Tailor's Cutter in 1901 and a Tailor Maker in 1911.
1918 - Declared unfit for military service. [See documents]
16th May 1922 - Marries Emma at the Congregational Chapel, Benllech.
Lives at The Gorse Poultry Farm, Kimbolton, Huntingdonshire, where he is a poultry farmer.
Daughter, Mary Elin, born on 30th April 1923.
Moves from Leicester to Burton-on-Trent, and sets up his own business as a tailor, clothier and outfitter at 52 and 53 New Street.
Late 1940s. George and Emma retire to a new house, Hillcrest, in Tynygongl, near Benllech.
18th October 1954 - Dies at home in Tynygongl, Benllech. [See documents]
Picture Gallery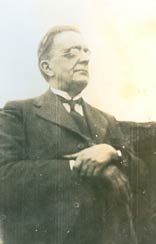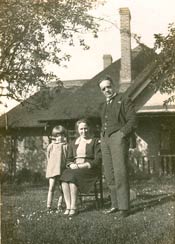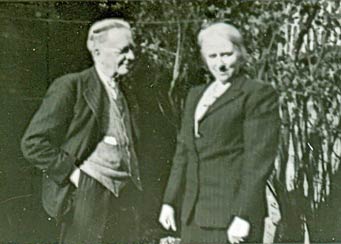 Above, from left to right:
Late 1920s.
1920s. George (on right), Poultry Farmer, with hens and their eggs.
With Emma.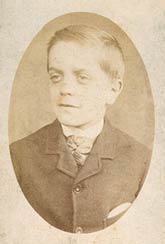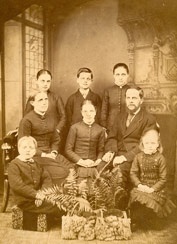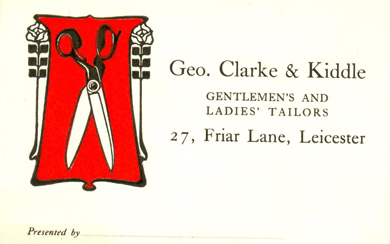 Above, from left to right:
As a boy.
George in the 1930s.
Front left, with his parents and grandparents.
Business card, Geo. Clarke and Kiddle, 27 Friar Lane, Leicester.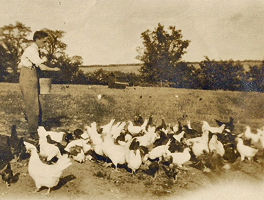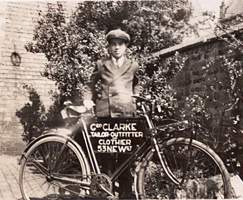 Left: George with his hens. Right: Errand boy from George's shop.