Caroline Eliza Bartlett (née Attwooll) 1853 - 1933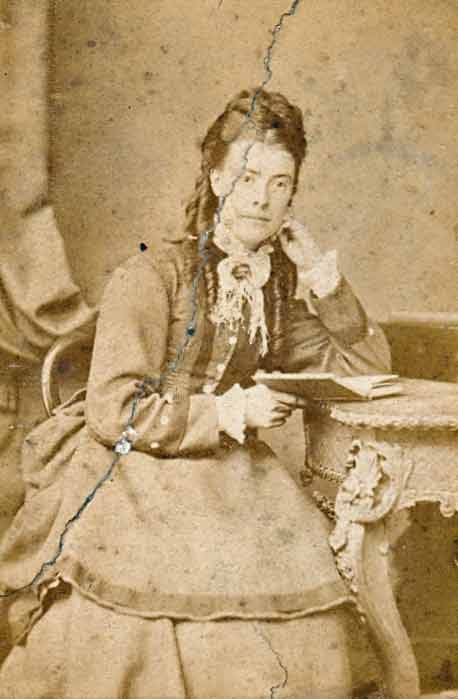 Caroline Eliza Attwooll, my great-grandmother, was born on 4th August 1853 in Portland, Dorset, the second of eleven children. She was baptised on 28th August 1853.
Caroline's brothers and sisters were Jennings (April 1851 - October 1881), Henry (born October 1855), Alfred Willoughby (born 1858), William (baptised 1861) and James Francis (baptised April 1861) and Louis (born June 1863), John (born August 1865), Edward Ernest (born January 1868), Harriet Adelaide (born June 1870) and William Arthur Ablett (born June 1872).
In the 1881 census Louis was a railway clerk at Holmsley station in the New Forest. He married Annie Emily Roberts and they had five children.
Caroline's Parents - Henry Attwooll and Harriet Willby
Caroline's father was Henry Attwooll, a Master Mariner, who was born in Portland, Dorset. He was baptised on 14th December 1823. Caroline's mother was Harriet Eliza Attwooll (née Willby), who was born in North Shields, County Durham, in about 1829. Henry and Harriet married on 13th June 1850 in Portland and a Caroline Willby (possibly Harriet's mother) was a witness.
In the 1851 census Henry and Harriet were at home in Fortuneswell and Harriet was working as a Dressmaker. In 1861 Henry and Harriet were at home in Fortuneswell with children Jennings, Caroline, Henry, Alfred and William. In 1871 Henry and Harriet were at home in Fortuneswell with children Caroline, Alfred, James Francis, Louis, Edward Ernest, Harriet Adelaide and John.
At the time of the 1881 census Henry was captain of the vessel "Zoe" in Minster in Sheppey in Kent, while Harriet was at home with their five younger children - James, John, Edward E., Harriet A. and William A. A. - in Fortunes Well, Portland.
The "Zoe" was a brigantine built by John and Samuel Duxbury of Brixham and registered in Weymouth on 22nd December 1876. Henry owned a quarter of her, the other owners being Henry Gibbs and John Benfield. He also part-owned another older boat – the "Annie Morice".
Sadly in October 1881 the "Zoe" sank off the coast of Yorkshire with the loss of all the crew, including Henry and his eldest son Jennings. According to the 1882 National Probate Indexes, Henry left an estate of £468 10 shillings and died on or about 14 October 1881. This was the date of the "Great Gale of 1881", which blew down trees and damaged property throughout the British Isles. Many sailors died that day and 189 fishermen were killed off southeast Scotland in what became known as the Eyemouth Disaster, Scotland's worst ever fishing disaster.
In the 1891 census Harriet was living in London, at 6 Barforth Road in Peckham, in the parish of Camberwell. Children James Francis, John, Edward Ernest, Harriet Adelaide and William Arthur Ablett were with her, as was her grand daughter Effie Caroline Bartlett (aged 8), one of James Elijah and Caroline's children.
Harriet died early in 1897 in Lambeth.
Caroline's Grandparents
Caroline's grandfather (Henry Attwooll's father) was Jennings Attwooll, a seaman born on 12th January 1800, and her grandmother (Henry's mother) was Sarah White, who was born around 1793. Sarah was a daughter of John White and Elizabeth Comben, who married in January 1793.
Jennings and Sarah were married on 23rd July 1823. They had three children: Henry (baptised 14 Dec 1823), Elizabeth (baptised 25 Feb 1827) and Jennings (baptised 22 Nov 1829).
In the 1841 census Sarah was at home in Fortuneswell with her children Elizabeth and Jennings. Elizabeth married Edward Bowden, a stonemason, on 23rd May 1850 and in the 1851 and 1861 censuses Sarah was living with her daughter and son-in-law in Fortuneswell, presumably after Jennings had died. (She is shown as "unmarried" in 1851 and widowed in 1861). Sarah Attwooll (née White) died on 15th December 1864. I have been unable to find a record of Jennings (senior)'s death, so presumably he died away from Portland or before the start of civil registration in July 1837.
Caroline's other grandfather (Harriet's father) was James Willby, who worked in the Preventive Service - i.e. he was an early Customs Officer.
Going Further Back...
Jennings' father (Caroline's great-grandfather) was Henry Attwooll (25th November 1764 - 5th November 1844) and his mother was Jane Attwooll (8th January 1769 - 31st July 1846).
Henry's father (Caroline's great-great-grandfather) was another Henry Attwooll (born 3rd March 1725), who married Susanna (born c1725).
Caroline Marries James Elijah Bartlett
In October 1877 Caroline married James Elijah Bartlett in Weymouth and they remained married until her death in May 1933. Caroline and James had seven children between 1879 and 1891, including Frank, my grandfather, who was the second youngest child.
In 1875 James moved to Lowestoft, Suffolk and Caroline joined him there in 1877. In 1887 they moved to Beverley in East Yorkshire. Caroline remained in Beverley until her death on 16th May 1933.
Writing in 1934, James says of Caroline: "I met my Dearest when a boy at Portland - and instantly knew. So did she. We had 55 years of wedded happiness. She was the bravest and truest woman God ever made." He adds, poignantly, that since her death: "I am sometimes very lonely."
Key Events in Caroline's Life
Born in Portland, Dorset on 4th August 1853.
27th October 1877 - Marries James at Weymouth Wesleyan Methodist Chapel.
2nd July 1879 - First child, James Willoughby ("Jim"), born. (Died 4th January 1938.)
8th January 1881 - Son, Wilfrid George, born. (Died 12th February 1972.)
October 1881 - Caroline's father Henry and brother Jennings are killed when their ship the "Zoe" sinks with the loss of all the crew.
18th August 1882 - Daughter, Effie Caroline, born. (Died August 1947.)
3rd January 1884 - Daughter, Helena Mary ("Nellie") born. (Died 13th May 1969.)
1887 - Son, Henry Percival ("Percy"), born. Date of death unknown.
1st September 1887 - Moves to Beverley.
5th December 1889 - Fourth son, Frank Neville - my grandfather - born. (Died 7th September 1981.)
14th May 1891 - Youngest child, Ernest, born. (Died 12th March 1972.)
16th May 1933 - Dies in family home, 80 Lairgate, Beverley.
Picture Gallery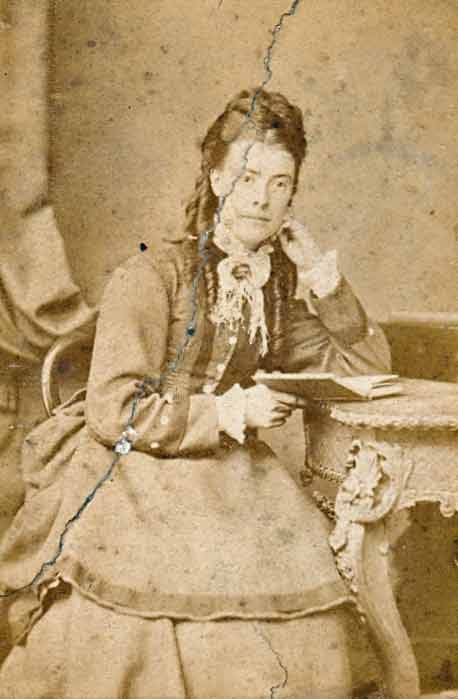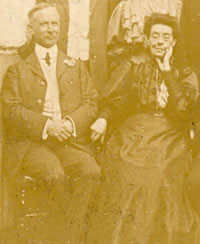 Above, from left to right:
Undated photograph. Taken in Weymouth, so 1877 (age 24) or earlier.
Aged about 52. With her husband, James Elijah, in 1905.