Frank Neville Bartlett 1889 - 1981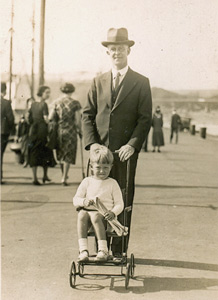 Frank Neville Bartlett, my grandfather, was born on 5th December 1889 in Beverley, East Yorkshire.

His father was James Elijah Bartlett, a School Master, and his mother was Caroline Bartlett (née Attwooll). He was the second youngest of seven children. He had four brothers, Jim, Wilfrid, Percy and Ernest, and two sisters, Effie and Nellie.

In September 1922 he married Elsie Dossor in Hull and they remained married until he died in Hull on 7th September 1981.
Frank and Elsie had only one child, my father Neville (full name James Neville), born in 1929.
Frank lived in Beverley all his life and worked in local government. He remained fit and active until a few months before he died. He spent the last months of his life in a geriatric hospital in Hull.
Key Events in Frank's Life
Born in Beverley, East Yorkshire on 5th December 1889.
1902. Starts work with East Riding County Council in the Clerk to the Council's Department, one of only twelve council administrative staff.
1916. Pronounced unfit for military service in First World War. [See documents]
9th September 1922 - Marries Elsie at the Wesleyan Methodist Church, Prince's Avenue, Hull.
Frank and Elsie spend their married life at 4, St. Mary's Terrace, Beverley.
4th December 1929 - Son, Neville (full name James Neville), born. (Died 27th March 2006.)
1957. Retires from East Riding County Council. In latter years Frank worked in the Welfare Department and Health Department.
7th September 1981 - Dies in hospital in Hull. Elsie survives him for nearly three years.
Picture Gallery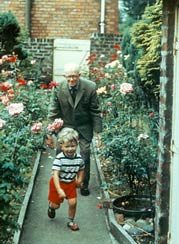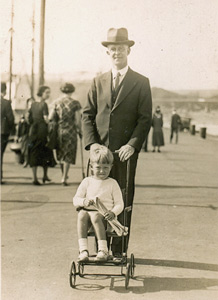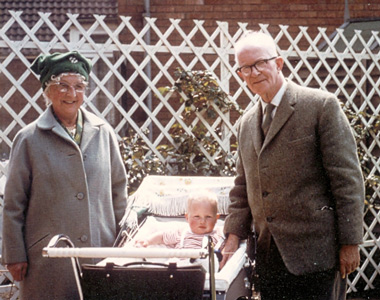 From top left:
Aged about 80. With grandson Jeremy, in garden at 4 St. Mary's Terrace, Beverley.
Aged 16 in 1905
Aged about 45, walking along the sea front (probably at Scarborough) with my father, Neville, in the pushchair
Aged about 75, with Elsie, and me in the pram