James Elijah Bartlett 1853 - 1941
James Elijah Bartlett, my great-grandfather, was born on 1st March 1853 at Winkleigh in Devon.
James Elijah's father was Reverend James Bartlett, a Bible Christian Minister, who was born in 1816 in Somerton, Somerset and died in 1881. His mother was Elizabeth Bartlett (née Rendell), who was born about 1829 in East Chinnock, Somerset.
James Elijah had two brothers, George Jabez (b. 1861) and Edward Charles (1867 - 1936) and three sisters, Elizabeth Jennie (b. 1852), Hephzibah Rendall (1854 - 1927) and Mary Emma (b. 1857).
In October 1877 he married Caroline Attwooll in Weymouth and they remained happily married until her death in May 1933.
James and Caroline had seven children between 1879 and 1891, including Frank, my grandfather, who was the second youngest child.
In 1875 James and Caroline moved to Lowestoft, Suffolk, then in 1887 to Beverley in East Yorkshire. James remained in Beverley for fifty-five years until his death in September 1941.
Key Events in James Elijah's Life
Born in Winkleigh, Devon on 1st March 1853.
Moves to Hatherleigh, then Newport and Shanklin (Isle of Wight) then Southampton.
In 1876 he recalls a terrible hailstorm while living in Newport:
"While at Newport – the time I cannot fix - a terrible thunder storm broke over the town, accompanied by immense hailstones which broke almost every window, left exposed, in the town. Occurring in the middle of the night, and suddenly startling us from sleep, considerably heightened its terrors. Many thought the day of judgement was come. I've often since heard that dreadful storm spoken of as being quite unprecedented, in this county at any rate, and many were the tales of terror caused among the drinkers and players who were enjoying themselves, when the storm so suddenly began. For years after, a thunder storm had peculiar terror for me, and even now the electricity affects me very strangely."
In 23 August 1855 there was a severe hail storm in Newport, H6 on the Torro scale, classed as one of the 50 worst British hail storms. [Source]. But would this be too early for JEB to remember?
Attends a private school in Southampton then Shebbear College from age 15.
Becomes a pupil teacher at Portland Wesleyan Day School. At the time of the 1871 census he was boarding at 1, King Street, Portland with Sarah Trevis (64) and her daughter Elizabeth (42), a seamstress.
1873 - 1875. Westminster Training College - First Class Scholarship.
January 1875 - Appointed to open a new Wesleyan School in Lowestoft.
27th October 1877 - Marries Caroline at Weymouth Wesleyan Methodist Chapel.
1878? - President of Great Yarmouth and District Teachers' Association.
2nd July 1879 - First child, James Willoughby ("Jim"), born. (Died 4th January 1938.)
8th January 1881 - Son, Wilfrid George, born. In the 1911 Census, Wilfrid (age 30) is an Assistant Schoolmaster and is living at 4, St. Mary's Terrace, Beverley with his wife Margaret (age 32) and daughter Irene (age 3). Wilfrid died on 12th February 1972. 4, St. Mary's Terrace eventually becomes home for my grandparents, Frank and Elsie.
1881 census - living at 4 Flensburgh Terrace in Lowestoft with Caroline and sons James and Wilfrid. (Flensburgh Terrace is now Flensburgh Street, and sadly no. 4 no longer exists).
18th August 1882 - Daughter, Effie Caroline, born. (Died August 1947.)
3rd January 1884 - Daughter, Helena Mary ("Nellie") born. (Died 13th May 1969.)
1885 - Writes to Prime Minister Gladstone while Honorary Secretary of Lowestoft Liberal Club. [See documents]
1886 - Son, Henry Percival ("Percy"), born. Date of death unknown.
In the 1901 Census Percy (age 15) was living at 80 Lairgate, Beverley with his parents, brothers and sisters. He was a Grocery Apprentice.
In the 1911 Census (age 25) he was single and living at 26 Aked Street, Ardwick, Manchester, sharing lodgings with Thomas Wilkinson (age 31), a Commercial Traveller.
1st September 1887 - Appointed Head of Beverley Wesleyan School. Here he was active on many committees and oversaw the modernisation of the school.
5th December 1889 - Fourth son, Frank Neville - my grandfather - born. (Died 7th September 1981.)
14th May 1891 - Youngest child, Ernest, born. (Died 12th March 1972.)
1894 - 1907. Played 85 performances with Hull Philharmonic Society, as Second Violin (1894 - 1900) and First Violin (1900 - 1907).
Serves on the board of the Yorkshire Vagrancy Society.
Five times president of Beverley and District Association of the National Union of Teachers.
1911 - In the Census, James Elijah is 58 years old and the Head Teacher at the Council School. He is living at the family home, 'Westleigh', 80 Lairgate, Beverley with his wife Caroline (58) and grown-up children Effie (28), Helena (27, Assistant Teacher at the Council School), Frank (28, a Clerk) and Ernest (21, a Shop Assistant). Nellie and Ernest continue to live at 80 Lairgate until their deaths. The house was sold in 1972 .
1919 - Retires as Headmaster and is elected to Beverley Town Council. Active on the Education, Health and Public Library Committees.
1921 - Has to decline nomination as Mayor because of increasing deafness.
1923 - Elected as Chairman of Beverley Public Library. During his 13 years of chairmanship a new wing and Reference Library were added, a garden was laid out round the building.
1926 - 1932. Serves as Alderman of the Borough.
A new street is named after him - Bartlett Avenue.
His portrait in oils by Kenneth Elwell, a local artist, is hung in Beverley Art Gallery.
In March 2009 it was still in the East Riding Museum's collection, but not on public display. It can now be viewed online [small size, in context] [bigger size].
Remains a co-optive member of the Library, Art and Museum Committee, Governor of Beverley Grammar School, Trustee of the Consolidated Charities and Trustee of the Savings Bank until his death.
1933 - Caroline dies in her eightieth year.
1933 - Listed in the Who's Who in Methodism 1933 - Index of Lay Officers.
September 1941 - Dies at Beverley Cottage Hospital. His memorial service, at Beverley Wesleyan Methodist Church, was attended by a large crowd of mourners, including the Mayor, Deputy Mayor, Town Clerk and councillors.
Picture Gallery
The Bartlett family in 1905.

Back row: Percy, Effie, Wilfrid, Margaret (Wilfrid's wife), Frank, Nellie, Ernest.

Front row: James Elijah, Caroline, Jim.

This photograph was taken outside their home at 80 Lairgate, Beverley.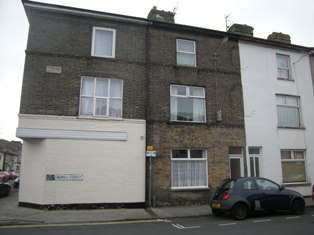 Flensburg Street in Lowestoft, October 2015.
James Elijah Bartlett lived at 4 Flensburgh Terrace in Lowestoft from 1878 to 1877.
Flensburgh Terrace is now Flensburgh Street, and sadly no. 4 no longer exists.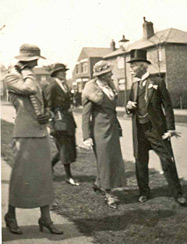 Left: 1940. Pruning apples in his garden, 80 Lairgate, Beverley. (My father recalled that these were "James Grieve" and "Cox's Orange Pippin".)
Right: 1935 - As Alderman, speaking to the Mayoress of Beverley and the Misses Plimpton at the tree planting on the Alderman Walker Estate in Beverley, to commemorate the coronation of King George V.
"Surely Goodness and Mercy have followed me all my life - To Him be all praise and thanksgiving." J.E.B., aged 81, 1st March 1934.