Emma Clarke (née Griffiths) 1894 - 1992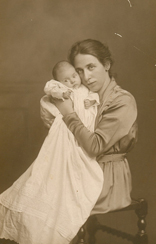 My grandmother, Emma Clarke (née Griffiths), was born on 24th December 1894 in Llanfairmathafarneithaf (nr. Benllech) on Anglesey.
Her father was William Griffiths, a Sailor, and her mother was Ellen Griffiths (née Thomas). She was the oldest of five children. Her three brothers were Owen, Gwilym and John and she had a sister, Jennie (died 1952).
She moved to England in her early twenties and in May 1922 she married my grandfather, George Clarke. They remained married until he died at home in Tynygongl in the parish of Llanfairmathafarneithaf in 1954. Emma and George had only one child, Mary, born in 1923.
Emma was a very kindly mother and grandmother and I have fond memories of her. She could switch effortlessly between English and her native Welsh. She was a keen member of the local Friends Meeting House (Quakers).
She died in Hafod Care Home, Benllech, on 14th June 1992, aged 97.
Key Events in Emma's Life
Born at Bryn Llan, Llanfairmathafarneithaf on 24th December 1894.
16th May 1922 - Marries George at the Congregational Chapel, Benllech. [See documents]
Lives at The Gorse Poultry Farm, Kimbolton, Huntingdonshire, where George is a poultry farmer.
Daughter, Mary Elin, born on 30th April 1923.
George becomes a Master Tailor, first in Leicester and then in Burton-on-Trent.
Late 1940s. George and Emma retire to a new house, Hillcrest, in Tynygongl, near Benllech.
1954. George dies.
14th June 1992 - Dies in Hafod Care Home in Benllech.
Picture Gallery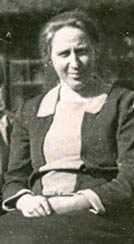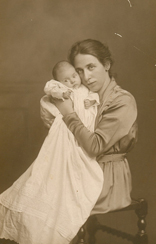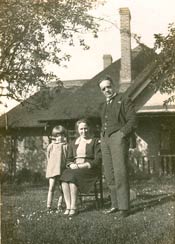 Left to right: Late 1920s. Emma with Mary as a baby, 1923. Late 1920s. In the garden with her daughter, Mary and husband, George.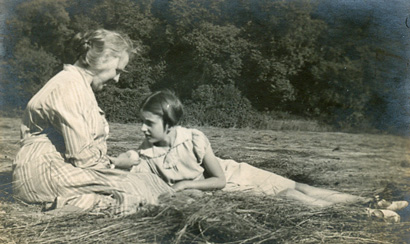 1930s. With Mary.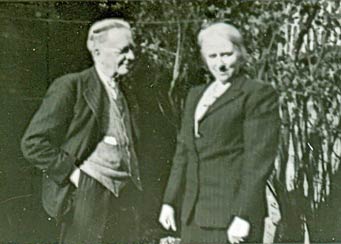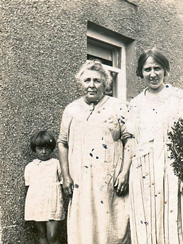 With George. With her mother, Ellen and daughter, Mary.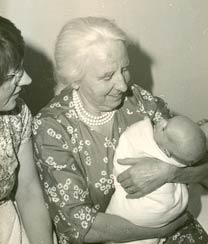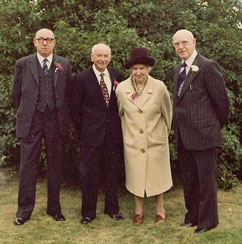 Left: 1965. With her daughter, Mary and grandson, Jeremy.
Right: Emma with her brothers: Owen, John and Gwilym.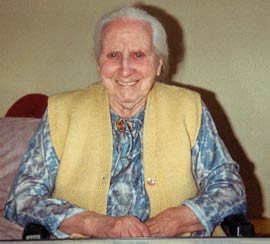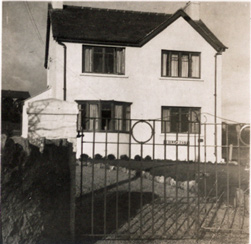 Left: In her 90s, Hafod Care Home. Right: Hillcrest, Tynygongl, late 1940s.