Ronald Ashling Purkis 1903 - 1990
Ronald Purkis is not a direct ancestor of mine, but he features in several family photographs. We are related through my Serjeant ancestors.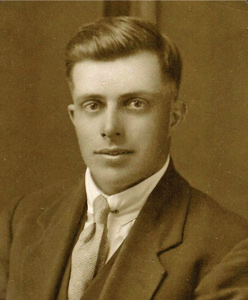 Ronald Ashling Purkis was born on 10th June 1903. He was the son of Anne Elizabeth Ashling (born in 1867, one of the daughters of Elizabeth (Betsy) Serjeant) and Ernest Albert Purkis. Anne and Ernest married in 1900.
Ronald's parents both died when he was young. His mother died when Ronald was six years old (c 1909) and his father when he was nine (c 1912). Ronald was raised, from the age of seven, by his uncle John Serjeant Clarke (9th December 1868 - 31st January 1952) and his wife Kate (neé Ashling, 16th August 1870 - 25th July 1952).
Ronald worked with my grandfather, George Westfield Clarke, on his poultry farm, The Gorse Poultry Farm, Kimbolton, Huntingdonshire.
Ronald emigrated to Canada on the S.S. 'Aurania' in 1929. The ship left Southampton on 21st February and landed in Halifax on 1st March. Ronald settled in Mirror, Alberta, as a farmer. (He is also listed as a passenger on the S. S. 'Regina' in 1925, sailing from Liverpool, as part of an 'Alberta Scheme Party'. Perhaps this was an advance visit to Canada for people planning to emigrate permanently?)
Ronald married 33 year old Winifred Margaret (Peggy) Wolferstan on 12th November 1945, when he was 33 years old. They had one daughter.
Ronald died on 9th September 1990 in Bashaw, Alberta, Canada, at the age of 87. His wife, Peggy, died 3 years later on 21st July 1993, in Stettler, Alberta, Canada.
Picture Gallery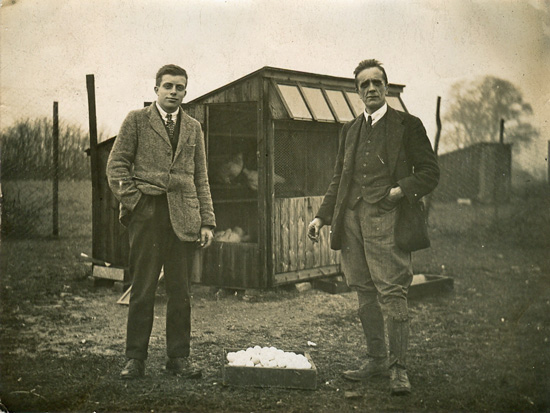 Ronald and George Westfield Clarke, my grandfather, at George's poultry farm.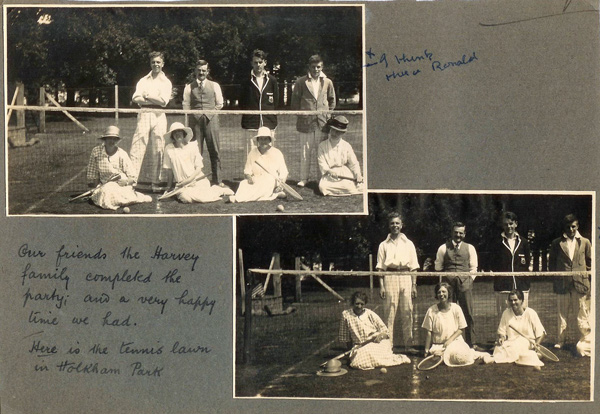 Tennis party, including Ronald (back row, right, in top photo) and Dorothy May Clarke, John Serjeant Clarke's daughter and Ronald's step-sister, who died in 1928 (front row, second left, in bottom photo).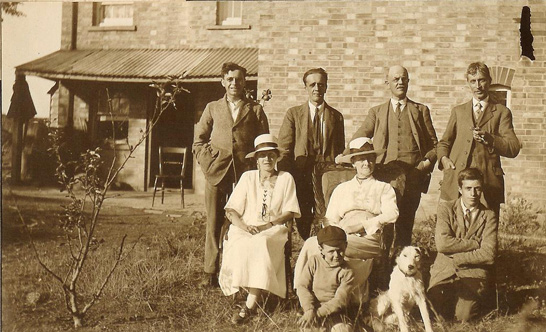 A family party at George's poultry farm. Ronald is on the right in the front row. George is second left in the back row and his brother John (Ronald's step-father) is third left.
Thanks to Terry Anderson for information on Ronald in Canada and for the last two photographs on this page.